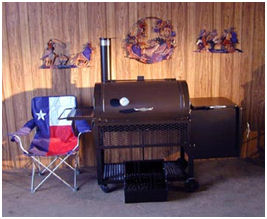 This   is a 20″ Diameter by 30″ long smoker with a 20″ by 20″ Square Firebox.
Features:
Air-cooled stainless steel handles, & an easy to read 3″ dial stainless thermometer.
There is a 10″ wide x 30″ long folding table on the front, 10″ wide x 20″ table on the side
Additional storage space underneath with a 20″ by 30″ long log rack.
The main cooking area has a two piece meat rack framed in steel angles for strength and a removable half  shelf.
This smoker has adjustable firebox & smokestack controls
The firebox also features a top open lid with adjustable grilling heights in the firebox.
20″ by 20″ square Firebox has a removable 20 pound  ash-pan with curved lip for easy ash-clean-out, & sliding air intake shield.
Pricing
The 20″x30″ Deluxe Smoker 2016 Base price                                                                  $1695.00
Available options:
½" Steel Firebox adds to Heat Control & versatility in Cold-Wet Weather.                $495.00
Brass Ball Valve Drain with large Rubber Handle. Never get Dirty Again.                 $59.50
2 Row Pullout Shelves                                                                                                               $245.00
2 Row pullout shelves in Stainless Steel                                                                                $750.00
Charcoal Basket allowing 6 hours without having to add charcoal                                  $195.00
Stainless Steel Charcoal Basket                                                                                               $395.00
Stainless Steel Ashpan resist corrosion extending the life of your firebox                     $295.00
Stainless Steel Meat Rack & Fire Rack in Firebox                                                               $250.00 ea.
Stainless Steel Meat Rack                                                                                                          $375.00
Stainless Steel ½ Shelf                                                                                                               $180.00
Stainless Steel main chamber charcoal rack                                                                        $ 195.00
Stainless Steel Front Table                                                                                                      $ 325.00
160,000 BTU Fish Fryer Table                                                                                               $695.00
(Includes 160,000 BTU Cast Iron Burner, Swivel Bottle Holder, Hose & Regulator, and Front controls.)
Fold Down Hot Griddle Plate also Protects Burner from the Elements                       $225.00