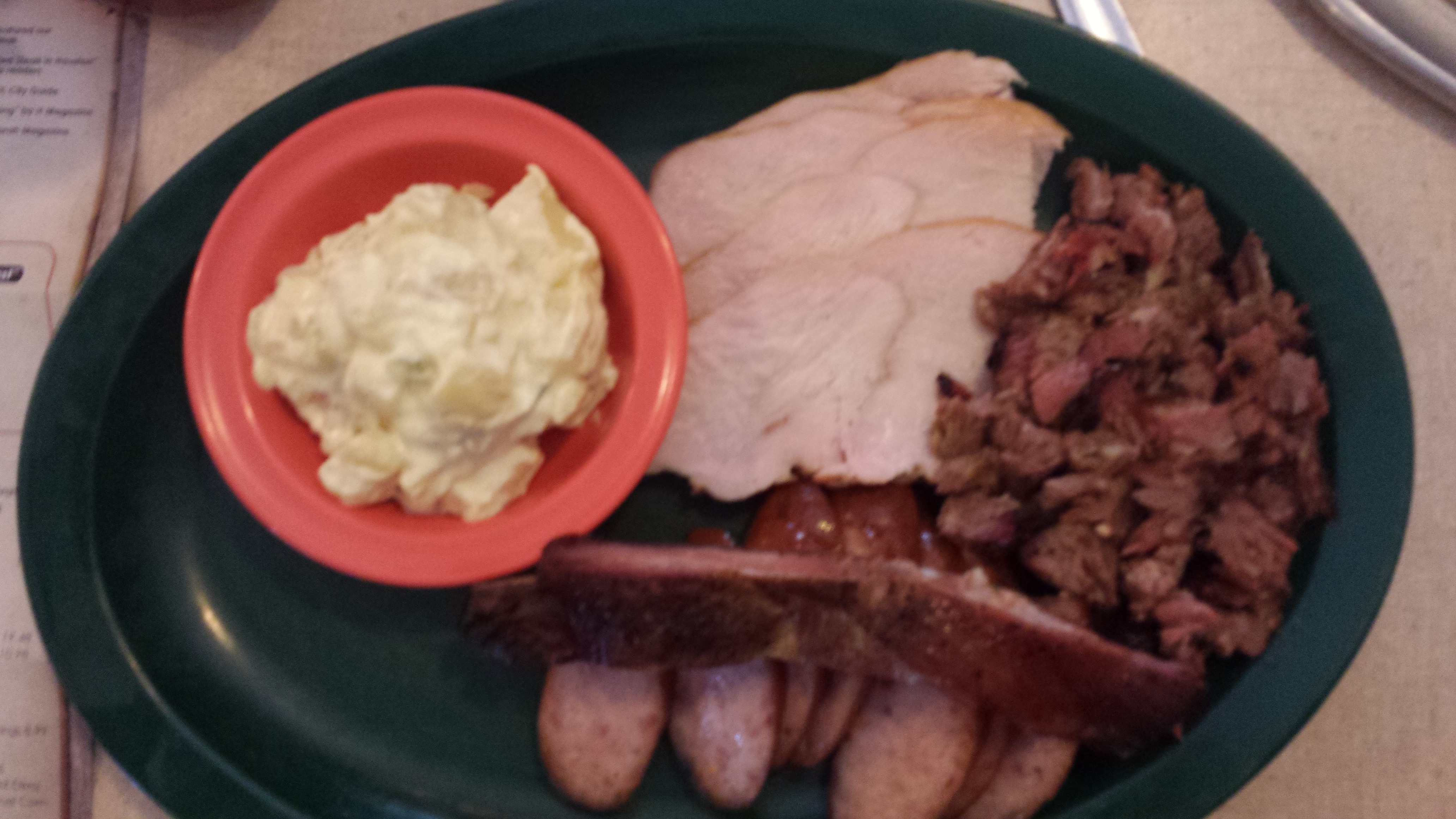 By: Ashton Rogue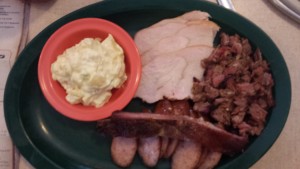 Hickory Hollow Cafe has been around for over 30 years and has two locations, I chose the location in the Heights. The parking lot is large so even if the Cafe is busy you'll have no problem parking your pickup truck.
If you've never been there, here is what you can expect. The decor is Rustic and quaint with picnic table seating and real family friendly atmosphere. The attire was everything from business suits, to blue jeans, to shorts and flip-flops. The interior is larger than it looks at first glance as the dining area wraps around to a back room and they have live music 3 nights a week.
The staff is friendly and knowledgeable about both the menu items and how they are cooked. They smoke with Pecan wood and were happy to show me the Southern Pride smoker. The kitchen and dining area were both clean.
It is a cafe so after reviewing their extensive menu on the wall, walk to the register and place your order. I was given a buzzer to let me know when the food was ready for me to pick up. Self serve drinks in really large Mason jars, the sweet tea was excellent. Help yourself to the napkins, condiments and tableware. The wait for our food was less than 15 minutes and this was a workday lunch crowd and they brought the food to the table before the buzzer went off.
After trying the BBQ ribs, smoked turkey breast, sausage, and brisket. The Barbecue in my opinion was just average and is not their claim to fame. The side dishes one typically associates with BBQ like Baked beans, potato salad and Cole slaw, again were nothing to write home about. The portion vs. price is a good value.
Their real claim to fame is the chicken fried steak. I had the "small" it was anything but, had to be 9″ across. Pure perfection. I love Chicken fried steak almost as much as BBQ. The fried zucchini, fried okra, mashed potatoes, and baked potatoes are all note worthy. They also have an ample salad bar with an amazing homemade ranch dressing.
While I won't be adding Hickory Hollow Cafe to my top favorite BBQ joints, over all this a great place to take your family and friends for some good southern fried food and fun.