AC Brown's New 24 x 48 pipe smoker
To David and Carla. I want to thank you both for the level of customer service with my journey of purchasing a pit. From choosing a smoker to the delivery by David it's been a pleasure doing business with BBQ Pits by Klose!! When David says call him anytime he means it!!  Each time I had questions and I called David was after hours or the weekend and he always answered!  Thanks again!!
Chet Wallenstein
Co-Founder at Quas accusamus
We have had our Klose pit for around 4 years now. Typically we smoke 40 briskets, 70# of links and a few pork butts every time we fire it up. We remark routinely on the quality of our pit, from the tuning plates, durability, consistent temperature capabilities and so on, we simply feel Klose pits are the finest pits made in America or anywhere for that matter. 100% recommendation, world-class.
Chet Wallenstein
Licketty's Barbecue
Seattle, WA
Cal McNair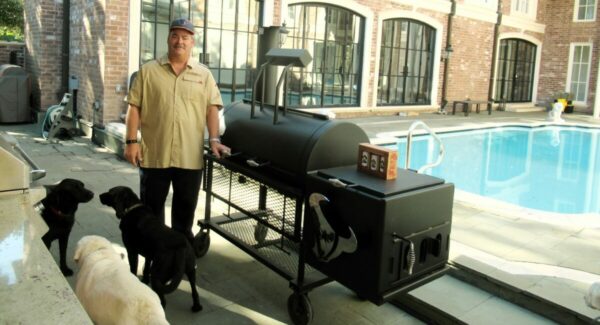 "Can't wait to get smoking on my new Klose smoker"
Cal McNair – Owner of the Texans Football Team  – This is his second Klose BBQ Smoker
Dickson Smokehouse
"Over the last 9 months Dickson Smokehouse has been working with the largest smoker with a roof that David Klose has made in the state of Florida.
This is a show piece! We have cooked for thousands of people in many different events. Coconut Grove Carnival on the mile, Miami-Dade County youth fair, Smoke on the water competition in Ft Myers and so on.
ORDER NOW FOR CHRISTMAS
Order your custom smoker by Nov 11 to guarantee Christmas delivery
How do I season or cure my new smoker?
Do you sale replacement parts!
My pit has rust what can I do?
What is your product warranty?
What makes your product and service different?
Instagram did not return a 200.
Subscribe To Our Newsletter
Magna aspernatur eget potenti molestias beatae!